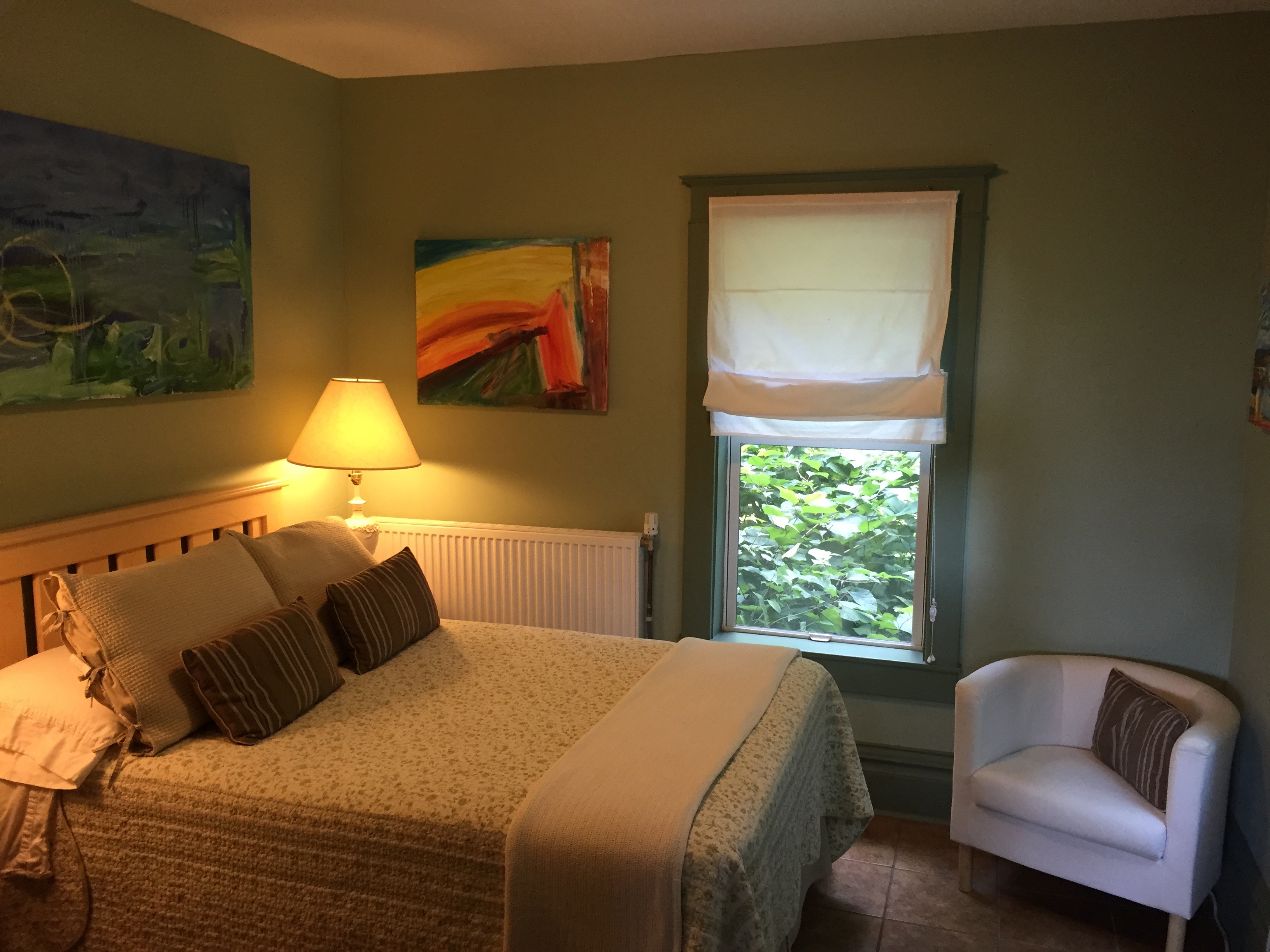 Garden Room
This first floor room has a double bed with a country atmosphere. Shared bathroom. Sleeps two people. Beautiful views of backyard and woods. Air conditioning in room.
$69 per night double occupancy
Striving for a healthy environment our towels and sheets are made from organic cotton and all non VOC paint has been used throughout the home. The bathroom is equiped with a low flow toilet and low flow shower head. Enjoy organic produce from our garden during your stay. Enjoy a delicious and healthy breakfast. Bring your own ingredients and have full use of the kitchen to prepare your own lunch and dinner.
We are proud that Artha B & B is powered by solar, both for the homes water and heating needs as well as electrical usage. Our home has been part of the Solar Tour of Homes and is certified as a Travel Green Wisconsin accommodation.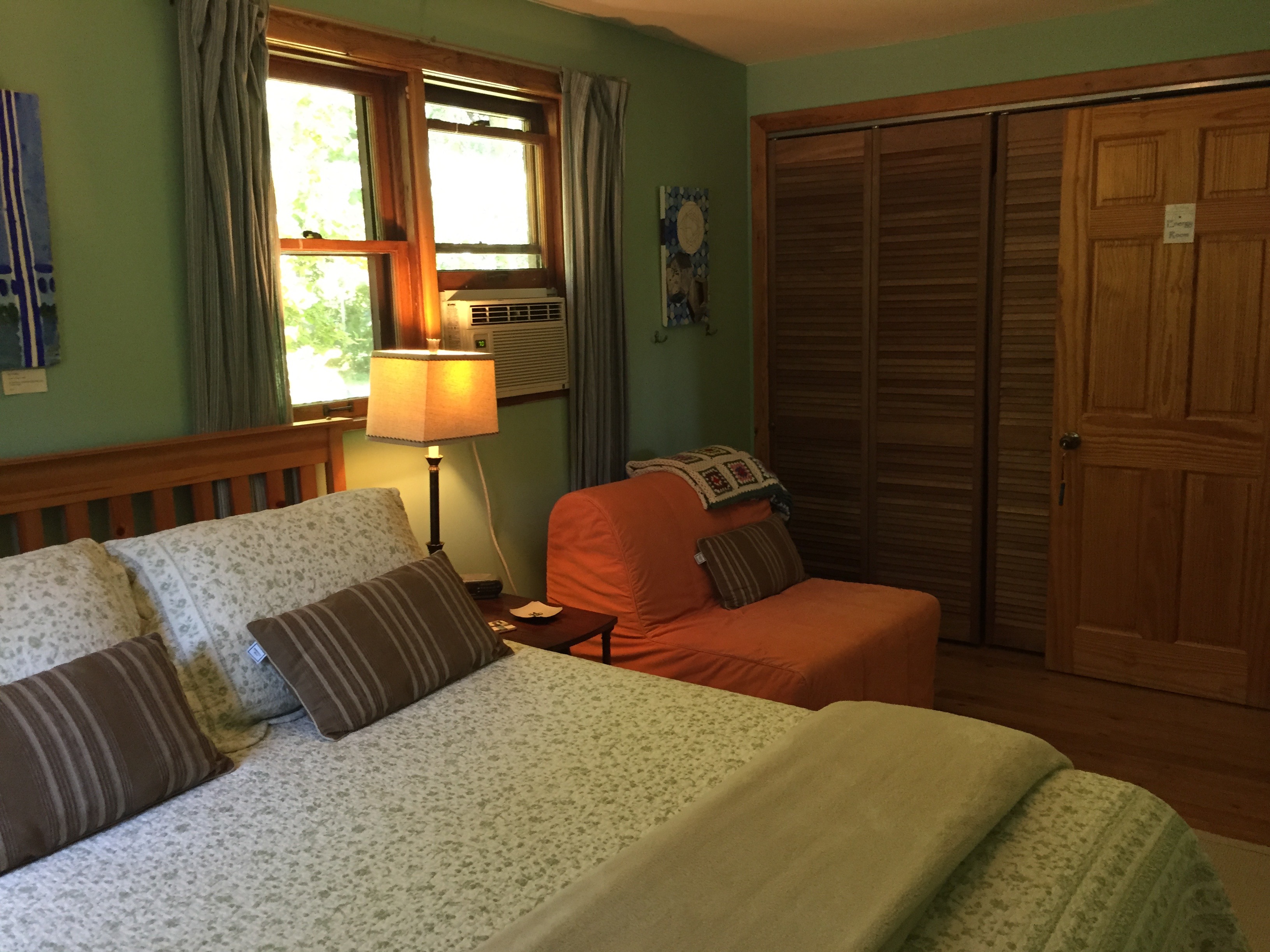 Energy Room
This room is on the first floor and boasts a modern spacious feel. Queen bed and beautiful view of the wooded backyard. Includes a comfortable IKEA chair cot for extra guest. Sleeps up to three people. Spacious private bathroom. Air conditioning in room.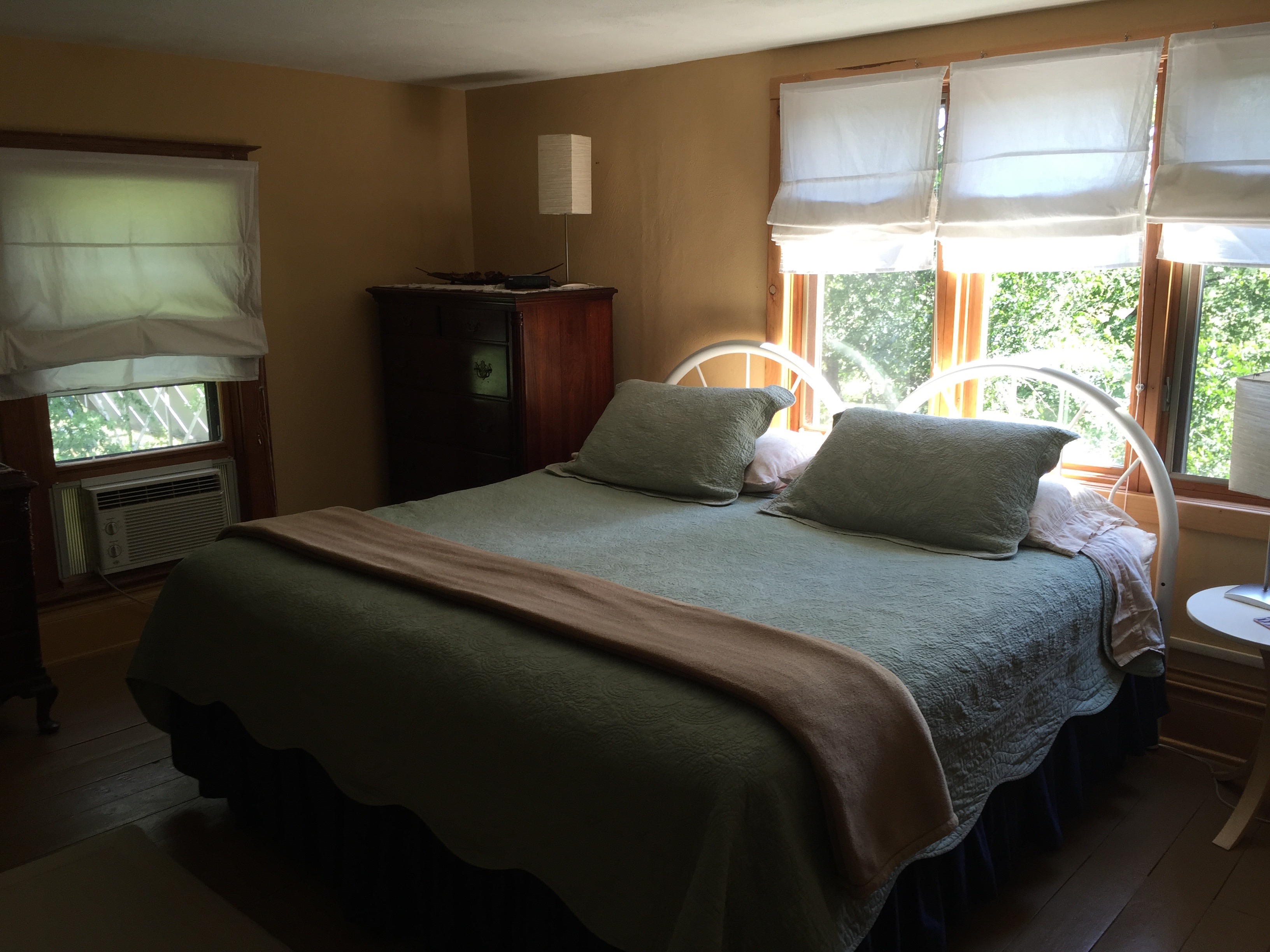 Solar Room
Light and airy with 1 king bed (or 2 twins) and a twin day bed with twin pull out bed underneath. This room is situated on the second floor, with windows facing the south and east, this truly is the solar room. Air Conditioning in room. Shared bathroom on the first floor. Sleeps up to four people. Air conditioning in room.
We've had a wonderful stay! The most beautiful fall weather, extensive hiking treils,a and delicious food… We feel so lucky to have found Artha Sustainable Living Cneter: a true retreat with a calming presence.. We've spent the weekend enjoying delicious, organic, home-made meals; stretching out to read good books; watching the fall colors all around the house; and enjoying time away from the bustle of day-to-day business. We're sure to come back – for yoga retreats, hiking or just to have a retreat of our own.
– Beth and Jonathan, Madison, WI.-
"Had a great time as usual. Will be back this fall. Breakfast was wonderful as usual."
– Judy G. Rosholt, WI –
"Another great stay in the Energy Room, We are here for the Energy Fair and enjoyed great weather, music and wonderful hospitality. Thank you!"
– Sarah D. Madison, Wi –
"What a wonderful weekend get-away! We were thrilled with the lovely accomodations and so enjoyed the marvelous breakfasts. Such a treat. Thank you!"
– Don & Robyn K. Yorkville, IL –
" What a Fantastic place and hosts. Great to unwind and be able to enjoy the wonderful food, friends and surroundings."
– Kurt & Nic G. Asheville, NC –
"What an amazing place to find! Was not looking for this place in particular, but so glad we did! We are so proud to see places such as this in the heart of Wisconsin! Yay for sustainable living! You guys are making it happen _ what an inspiration. We felt so at home, and to see our daughter running around with joy and excitement, was as if we had been here several times before. Your hospitality (especially breakfast) was a true gift! Thank you so much – we will most definitly be back and hope to someday experience everything Artha has to offer!"
– Justus, Krista & Linia, New Richmond, WI-
"What an incredible first time B&B experience. Artha is a completely delightful place and I thank the Ramlows and our chief Breakfast preparer Rhonda. Thanks for the wonderful food, down home atmosphere and especially your care and concern for the land."
– J.O. Duluth, MN –
"Artha is sustaining and renewing! What a wonderful place to share our sisterhood and find ourselves Thank you for a beautiful and warm place and the lovely breakfasts. I feel rejuvenated!
Thank you Marguerite for your sincere and warm hospitality and serene demeanor. This was a perfect sisters-in-law retreat."
– Klein Sister's Gathering –
"It's our forth year of joy, peace, love and beauty with friends in an amazing place full of heart & love, grounded, connected and open. We are all so grateful! Thank you Artha!"
– Year number four, yoga friends from Madison. –
"Rocky and I had a wonderful stay here… Of course the breakfast was superb – healthy & delicious. We'll have to come again."
– Diana and Rocky C, Madison, WI –
"Don't change a thing!"
– Kaley M., Chicago, IL.-
"This place is just fabulous! I love the peaceful environment and this place is like home. Our group really bonded here. The breakfast here is great and your hospitality is rare and really needed! This is heaven. We will definitely return here. Thank you!"
– Juliet C. Nia Dance/Drumming Group –
"I really enjoyed my self here, it's so peaceful and beautiful. The breakfast was awesome!!"
– LL Green Bay Wi. –