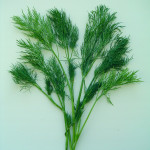 Planting a Culinary Garden
Herbs right outside the kitchen can only make cooking this summer more fun and pleasant. Start to plan your garden now, you can purchase seeds and start from scratch or purchase plants from a local greenhouse.
Location is important, plan your garden close to the kitchen for easy access all summer. Most herbs like to grow in full sun and the soil quality is important. They like a healthy, loose and well-drained soil; you can improve your soil by adding compost and mulching with straw or chopped leaves. Planting herbs in containers can offer easy access to those with smaller yards or patios.
For the culinary garden some of my favorite herbs are:
Dill: It grows to three feet tall, so plant toward the back of your garden. Dill does best in spring and fall, it will wilt and bolt in the hot sun, do more than one planting. Space about 12 inches apart. Cut leaves as soon as the plant is 6" tall and chop add to dips, cream sauces and dressings. Use the whole flower (fresh and green or dried) for pickles. Read More