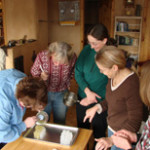 Natural Beauty Products as Gifts (Hands-On) Purchase
April 9th, 2011 Sat: 9am-noon
$35 + $20supplies Herbal beauty products make wonderful gifts, and making them youself is much more meaningful! Treasure your skin and make products that you know are truly natural. You will make facial scrubs, masks and lip balm for 6 + gifts. 
Natural Bath Products as Gifts (Hands-On) Purchase
April 9th, 2011  Sat: 1-4pm
$35 + $20 supplies Herbal bath products are very popular, make a Christmas gift everyone will want. Go home with bath oils, soothing body scrubs, botanical bath salts and the recipes to make more natural products for yourself and friends. Leave with 6 + gifts.